"Tuscanity " Tradiction & Exellence: The Art is all here
This is the spirit with which we produce our olive oil.
Strict judges of quality offering you a product worthy of being branded Made in Tuscany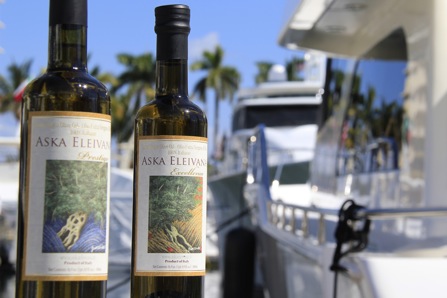 "Aska Eleivana" 100% Italian Extra Virgin Olive Oil is a blend of extraordinary Tuscan varieties (Cultivar) "Moraiolo, Leccino, Frantoio" and it is specifically designed to enhance the unique taste of our local selected and prestigious foods, as well as to match perfectly with the excellent taste of exclusive foods such as shellfish, lobster, Alaskan King Crab, Stone crab, caviar and seafood, in addition to delicious fish of delicate flavor.

"Aska Eleivana" is more than an expression of the worldwide recognised quality of Tuscan Extra Virgin Olive Oil; it marks a new step towards excellence with the gift of combining its subjective blend of outstanding olives varietes (Cultivar) with exclusive and prized foods.

"Aska Eleivana" is the name chosen by the Etruscans for "Vessel for olive oil" in their ancient language and they were the ones who established olive cultivation between 600 and 550 BC all over the Mediterranean, beginning with Italy...
"Aska Eleivana" now establishes the local production of the best 100% Italian Extra Virgin Olive Oil all over the world…
Tasting Events 2010-2011-2012 "Aska Eleivana" 100% Italian Extra Virgin Olive Oil
You can find here (clicking on this link), all the photos of the USA and European events of "Aska Eleivana"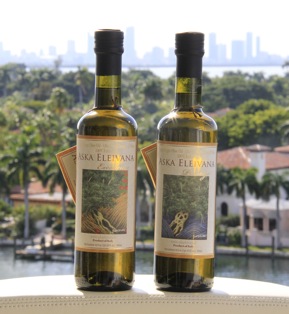 To stay updated on events, press review and news of
Aska Eleivana 100% Italian Extra Virgin Olive Oil,
you can follow us on Facebook.
Why Olive Oil?
Olive oil is an ideal condiment and foodstuff in terms of flavour and health.

Flavour: Emphasises and enhances the flavour and aromatic components of the food that accompanies it.

Health: Olive oil's health benefits

The greatest exponent of monounsaturated fat is olive oil, and it is a prime component of the Mediterranean Diet. Olive oil is a natural juice which preserves the taste, aroma, vitamins and properties of the olive fruit. Olive oil is the only vegetable oil that can be consumed as it is - freshly pressed from the fruit.

The beneficial health effects of olive oil are due to both its high content of monounsaturated fatty acids and its high content of antioxidative substances. Studies have shown that olive oil offers protection against heart disease by controlling LDL ("bad") cholesterol levels while raising HDL (the "good" cholesterol) levels. No other naturally produced oil has as large an amount of monounsaturated as olive oil -mainly oleic acid.


Antioxidants to help slow down the aging process of your skin, cells, tissues and organs
Stronger Immune System
Better Circulation
Strong Bones and Healthy Teeth
Lower Blood Pressure and Cholesterol


Olive Oil has an effective protective action on our bodies' cells, slowing down the ageing processes and increasing our resistance to free radicals, hence the name "Longevity Factor"… All these properties that have contributed towards calling the olive juice the nectar of the Gods…