Characteristics
"Aska Eleivana" 100% Italian
Extra Virgin Olive Oil

"Aska Eleivana" is a blend of extraordinary varieties (Cultivar) "Moraiolo, Leccino, Frantoio" and is an Extra Virgin product obtained with one mechanical pressing at a low temperature. It must not be subjected to heating during this process and must not be submitted to any processing that alters its composition and where the acidity (expressed in oleic acid) is lower than 0.8%.
The Extra Virgin Olive Oil (which means that it hasn't been altered) is the version that mostly keeps all the oil's organoleptic properties unaltered, as well as having a persistent, fuller and more genuine flavour, therefore an excellent Italian product that is enjoyed and esteemed all over the world
Bespoke labels. Images of works by Domenico Monteforte, who lives and paints in Forte dei Marmi, Tuscany. Three of his works are part of the Senate of the Republic collection in Palazzo Madama in Rome (Italy). www.domenicomonteforte.com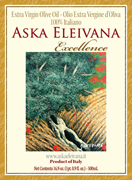 Aska Eleivana "Excellence"
Extra Vergin Olive Oil 100% Italian
(500 mL / 16,9 Us fl oz )
Organoleptic characteristics:
"Excellence" Extra Vergin Olive Oil is a fruity, lovely deep and golden yellow colour oil with clear, green, warm tones. It has an unmistakable aroma characterised by rich plant notes of fresh medicinal herbs. The flavour is complex and balanced, which recall the aroma and flavour of the fresh and healthy fruit, harvested at the optimal stage of ripening.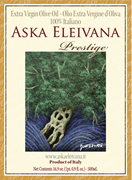 Aska Eleivana "Prestige"
Extra Vergin Olive Oil 100% Italian
(500 mL / 16,9 Us fl oz )
Organoleptic characteristics:
"Prestige" Extra Vergin Olive Oil is a sweet, yellow coloured oil with lighter and darker green tones. Its fruity olive aroma ranges from light to medium. It has a delicate nature that isn't overly structured. It is balanced, has a fluid flavour and the sweetness predominates in the mouth. Flavour of olive oil extracted from ripe fruits, generally with a muted aroma and sweetish flavour.